My Books + Favorite Resources
---
The Soul's Calling Roadmap: Free Mini-Course
Learn What You Really Need to Discover & Do Your Soul's Calling
Do you feel stuck & uninspired in your work, your business or your life? Do you long to do something meaningful if only you could figure out what that was?
Then the free Soul's Calling Roadmap Mini-Course is for you.
---
"Do" Leadership:
A Step by Step Guide to "Doing" Thought Leadership for Solopreneurs & Small Business Owners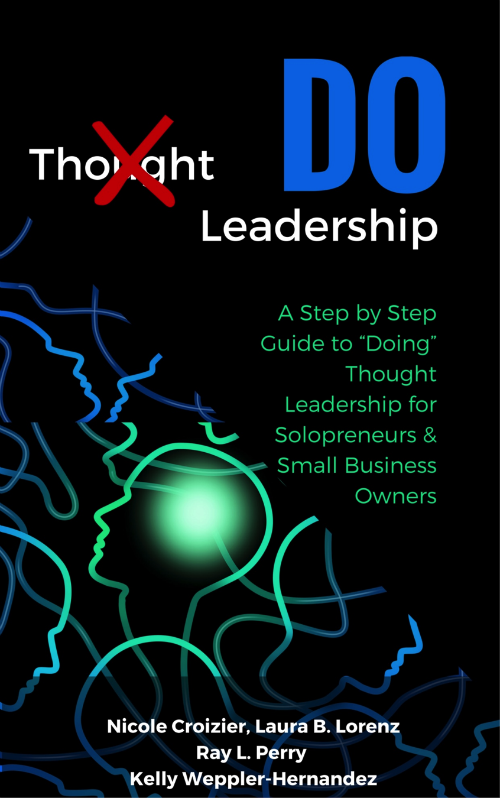 Are you looking for a way to attract more of your right tribe by being your authentic self, holding a unique point of view, and using a consistent system to share your voice?
That's what "Do Leadership" is all about.
In this  Amazon best selling book by Master Duct Tape Marketing Consultants Nicole Croizier, Laura Lorenz, Kelly Weppler-Hernandez & Ray Perry, you'll learn the exact practical steps to take to use thought leadership as an authentic marketing strategy for your solopreneur practice or small business.
Available Now on Amazon and Kindle
Some Nice Words:
"Anything that comes from the Duct Tape Marketing brand is solid gold. And, this book is no different. It's also an important book. (Thought) leadership is hard but without real (thought) leadership there are no sales, no effective marketing campaigns and no business development that makes a difference. Read this book. Your future depends on it." Michael Port, Best Selling Author of Book Yourself Solid
---
Love What You Do Again
How to Connect Who You Are to a Coaching Business You Love
In this in-depth educational eBook/guide/workbook, I outline five key steps to building a coaching business you love. You will first dive deep into rediscovering who you are and what success means to you. Then, you will review your core business fundamentals, including your tribe, core difference, packages/services and brand to make sure they are in line with who you are and what you love to do. Finally, you'll work through some core exercises to bring your newly defined business to life through your authentic voice and unique story.
Each section includes an introduction, real-life example and action steps.
---